We recognise that it's not enough to make big promises – it's delivery that counts. Through our commitment to having the right infrastructure we make our promises a reality and give our customers confidence that we are a reliable supplier who won't let them down.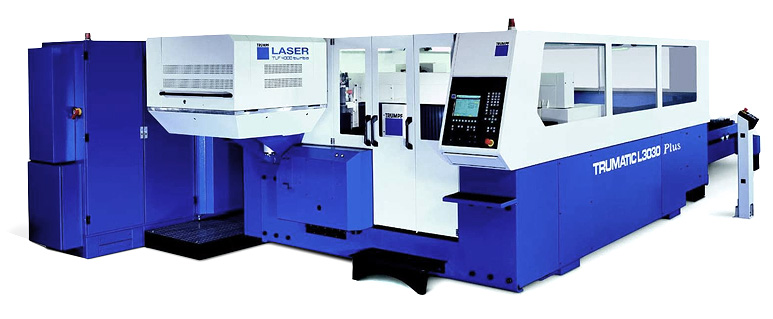 Through a policy of constant and continuing investment we have an extensive plant resource which gives us the flexibility to meet customers' needs.
Although our manufacturing expertise has its roots in traditional craft skills, we have been alert to the competitiveness to be gained by investing in the introduction of computer driven technologies and by bringing together complementary production processes at one source.
Having implemented this vision we now possess a broadly based and in-depth manufacturing resource which provides us with what we believe our customers are seeking – flexibility and the capability to consistently meet high standards of precision without compromise to their demands for reliable delivery to tight deadlines.
Trumpf 5000 with sheet master and Trumasort.
Fully automated punching with working range up to 3400 x 1640 x 8.0mm. The punch has the capabilities to "Roll thread" "Louvre" and form. We have the capacity to run "Lights out" for optimum efficiency.
Trumpf L3040 (L32) 4 KW
Working range of 4000mm x 2000mm x 20.0mm Mild steel and 15mm Stainless.
Trumpf Tube 5000
Working range 150.00mm diameter x 7500mm long, up to 6.0mm mild steel. The tube laser has automated loading and can handle bundle loads of 4 tonnes.
1x Trumpf Trubend 5170 with Bandmaster.
This is a fully automated robotic bending cell, this provides us with the ability to fold through the night, unmanned.
2x Trumpf V170
1x Tumpf V130
1x Tumpf V85s
We have 15 welding engineers, that allow Main Road to offer MIG, TIG, MMA and spot welding, all of which switch between Mild Steel, Stainless and Aluminium.
Our machine shop is fully equipped with the latest HAAS machinery. While our machine shop produces all the components required by our shopfloor, there is still plenty of capacity to offer complete sub-contract machining services.
Milling
Newly installed is the latest VF4, this machine has a working range of 1270 x 508 x 635 and increases our capacity to 3 machines.
Turning
Along with the VF4 we have installed a ST20Y Lathe with 50mm barfeed.
Our range of finishes covers almost anything anyone could require. We can offer "Powder Coating", "Plating", "Sheradizing" and "HotDipped Galvanised"
Powder coating
We have a 60ft tunnel over with an opening area of 1200mm x 900mm. Our box oven can accommodate fabrications 2500 x 2000 x 4500mm long. We have a five stage pre treatment with iron phosphate.
We have a fleet of 7 vehicles, the largest being 18.5 tons. This fleet allows Main Road to offer a dedicated delivery service and achieve tight delivery windows.